Exhibition
2018.05.22
In May, Zen Tree is meeting you in Shanghai CBE!

Exhibition: The 23rd China Beauty Expo 2018 (Shanghai CBE)
Date: May 22nd – 24th, 2018
Place: Shanghai New International Exhibition Center
Open Hour: 9:00 – 18:00 (Tuesday to Thursday)
Address: No.2345 Longyang Road, Pudong, Shanghai, China (Huamu Road Station)
Zen Tree: Innovative Technological Material Hall N6B05 and Big Hall EVIP4.
The 23rd China Beauty Expo 2018 (Shanghai CBE) is one of three worldwide exhibitions for beauty cosmetics and personal (household) care products industry chain global business platform. In 2018, the overall exhibition area will reach 260,000 cm2. To gathering with more than 30 countries/areas with more than 4,000 business participators to present their innovative products. It is an excellent platform to extend expansion for business development.
The 23rd China Beauty Expo 2018 (Shanghai CBE) will be held during May 22nd to 24th 2018 in Shanghai New International Exhibition Center. It is a first to none beauty business exhibition in Asia, and it is also the best choice for many industry insiders to expand China market to Asian beauty industry. Shanghai CBE contains four major themes – cosmetics exhibition, professional beauty exhibition, cosmetech exhibition, and raw materials & formulation exhibition. Together with Chengdu Beauty Expo, we held exhibitions in many cities in China and overseas to create uninterrupted in-depth publicity and global strategic layout throughout the year.
The overall exhibition area will reach to 260,000 cm2, including 17 pavilions, 2 topic pavilions, and 60 outdoor halls.
Attracting more than 3,500 companies to join the exhibition, with 60 categories of products, we share worldwide innovative resources with 18 countries group.
It is the largest platform for cosmetics supply chain in the world.
Shanghai Fresh Biological company brought our own innovative fermented raw materials. We research, develop, and produce bio-fermented raw materials. Using fermentation technique for the plant, and we did not add any additive chemicals during fermentation. After fermentation, it will activate new nutrients and produce more amino acids, polypeptides, and monosaccharides, etc. It can help to smaller the size of active ingredients, and skin absorption rate of active ingredients is up to 90%. It is the true meaning of safe fermented raw materials.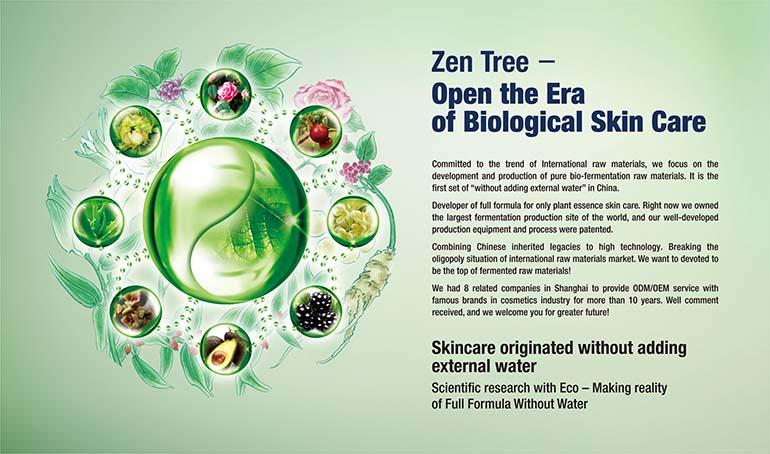 Zen Tree as one of the exhibitors of Shanghai CBE would like to demonstrate to more people for our innovative fermented products here.
Our "TRULYFER" and "TRUFEREX" series fermented serum products
During producing skincare products, how do we ensure the efficacy of active ingredients? We well-selected from more than 26,000 species for our "TRULYFER" and "TRUFEREX" series products. Through patented fermentation production process without adding any chemical additives, we fully preserved plant active inside our skincare products. We used microbial fermentation to extract plant active ingredients, and it was used enzyme inside microbial cells to proceed catalytic reaction with the plant's components. We can achieve extraction of natural plant active ingredients with mild reaction, pure natural process, chemical additive-free, and no pollution.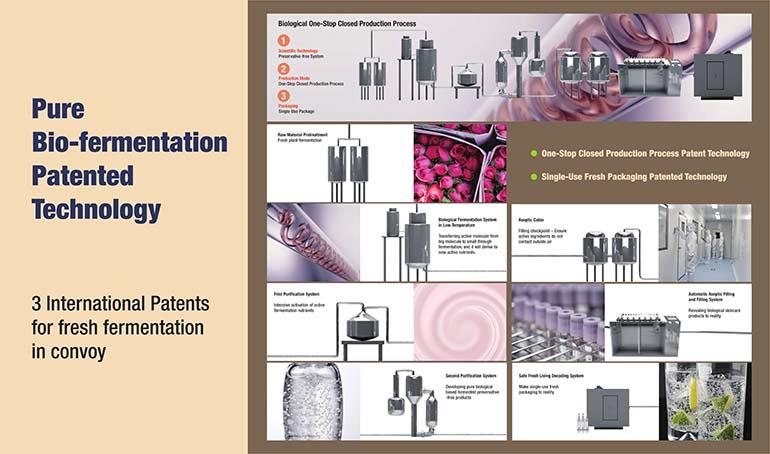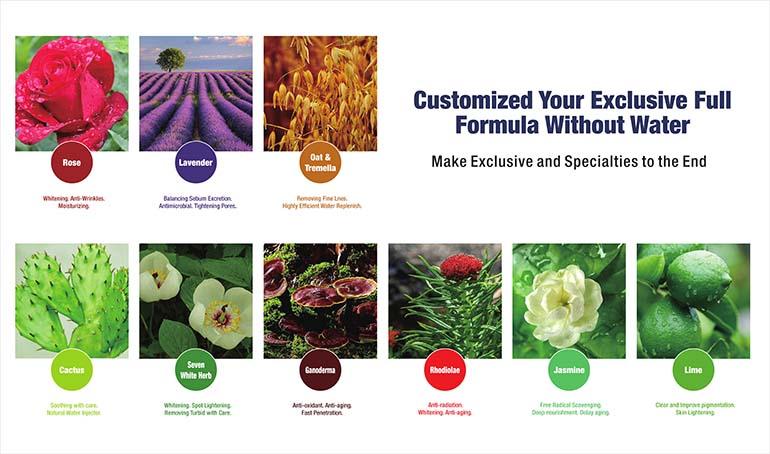 Except for fermented raw materials, we presented plant fresh water this time! It is purer than pure dew!
Fresh water with natural floral smell was extracted from nutrient water inside the fresh plant cellular wall. During production, it will not contact or induce other chemical additives. Small molecule clusters and contains natural moisturizing factors. It is similar to the water molecule inside the skin cell and easier for skin penetration. It can replace pure water inside the formula to be the latest fashion waterless formulation. Make your products' efficacy and image better!